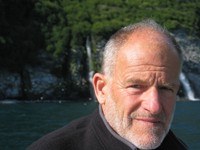 Scholar, colleague and friend, Eugene Victor Wolfenstein, 70, died on December 15 of cancer at his home in Los Angeles.
Wolfenstein, who became a psychoanalyst in the latter part of his career, graduated magna cum laude with a B.A. from Columbia College in 1962 and received his M.A. and Ph.D. in politics from Princeton University in 1964 and 1965. He came to UCLA July 1, 1965, as an assistant professor of political science and later became a full professor in 1979.  Since its inception in 2006, Victor has been a valuable member of the Center for the Study of Race, Ethnicity and Politics.
Some of his accomplishments include winning a Guggenheim Fellowship in 1974-75 and earning a Ph.D. in psychoanalysis from the Southern California Psychoanalytic Institute, where he also taught from 1988 to 2002. Wolfenstein was a recipient of the 1991 UCLA Mortar Board Faculty Excellence Award, in recognition of his dedication to teaching and the pursuit of academic freedom. In 1994, he won UCLA's Harriet and Charles Luckman Distinguished Teaching Award with distinction for graduate teaching. In 2002 and 2008, he received an Academic Advancement Program Faculty Recognition Award.
One of his last faculty duties was turning in grades last Friday, colleagues said. That day, he also submitted the final manuscript for his latest book, "Talking Books:  Tony Morrison Among the Ancestors," which will be available online shortly. Colleagues recalled that his constant companion was his standard poodle, Bela, who accompanied him to class and faculty meetings. Students recall his ending each quarter by singing and playing the guitar.
He is survived by his wife, Judy, and four children, Laura Shalliker, Lenny, Gabriel and Moses. He also had four grandchildren.
A memorial service for this winter is being planned.